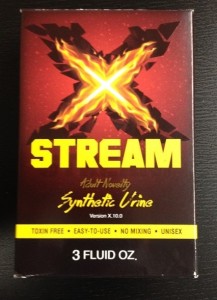 XStream Fetish Urine is new fake urine that caught my eye one day when we ordered some for calibration of our equipment and to test it's quality. Like most synthetic urine's on the market, XStream Urine is 100% drug metabolite free and requires no mixing and is ready-to-use out of the box after a quick ten seconds in he microwave.
The results came back for balanced pH, specific gravity, creatinine, uric acid, urea, amino acids, protein,and few other urine characteristics. What really separated this synthetic urine from the others on the market was it actually smells like urine and foams when shaken up.
Unlike quick fix urine that can be reheated unlimited times before your, Xstream urine is a single use only, meaning once opened and heated must discard or used quickly.
While I've said before that labs can NOT LEGALLY REJECT OR FAIL urine samples because of lack of foam or smell, if you paranoid about not having that urine smell or foam this if the product to use.
 XStream Synthetic Urine before and after shaken photos